Cannes Corporate Media & TV Awards
Winners & Videos
The Winners are Announced
The winners of the 5th Cannes Corporate Media & TV Awards were revealed on October 2nd at the Palm Beach Cannes during an exquisite Awards Gala Dinner. More than 240 guests travelled from all over the world to take part in the festivities.
The international competition received a record number of 725 entries from all over the world. Out of all entries a total of 141 productions were awarded with the coveted Dolphin Trophies in Gold, Silver and Black.
And the Grand Prix goes to: "Das Leben braucht Mut" ("Life needs courage")
The jury was in favour of the corporate film "Das Leben braucht Mut" ("Life needs courage") that was produced by stories AG for the Swiss accident insurance company SUVA. Besides winning the Grand Prix the film was also awarded with a Gold Dolphin in the category Corporate Image Films and a Black Dolphin in the category Best Director.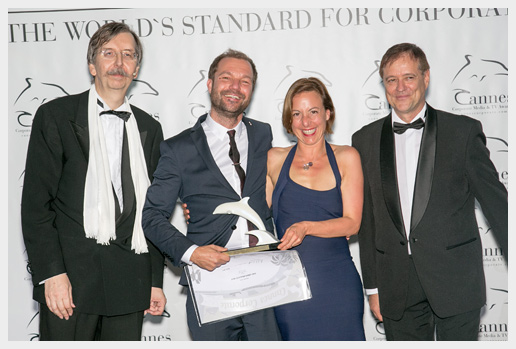 The Grand Prix Winners 2014
Check out the complete list of the winners and the pictures of this year's edition.
The festival's team would like to thank all the participants for joining this incredible competition and is looking forward to welcoming new exciting projects next year! Entries to the 6th edition are available starting with March 2015.